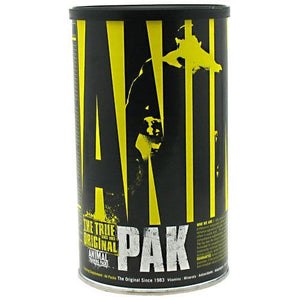 The True Original Training Supplement Since 1983. Vitamins. Minerals. Antioxidants. Adaptogens. Amino Acids. Digestive Enzymes. Performance. Energy. Support. Animal Training Packs work. Period.
The ultimate training pak. 44
Scientifically Balanced Packets Containing:
» Mega vitamins and minerals.
» Performance nutrients.
» Amino acids. Pure power. Pure strength. Pure animal intensity. For maximizing gains in muscle mass, strength, and performance, nothing comes close to pumping up with Universal's Animal Pak, The Ultimate Training Pack. There's no better nutritional weapon to fuel intense workouts. Loaded with the most advanced and highest quality bodybuilding nutrients. Animal Pak is light years ahead of any formula. Only Animal Pak powerizes you with the perfect combination of complex proteins, mega-vitamins, lyophilized amino acids and essential training factors (such as Inosine, Pak, Protogen A and Coenzyme B12). Plus each pack contains a powerful combination of advanced mega-cycle mineral complexes, performance enhancers, lipotropics, digestive enzymes and high potency pre-workout energizers. All are synergized in a perfectly balanced, time-released formula of eleven tablets that are easily assimilated by your body for perfect bio-availability and optimum performance. That means solid gains from your workouts. Train harder. Train longer. Train stronger. Pump up with Animal Pak, and bring you the animal within you. Contains no sugar, starch, artificial color or preservatives.