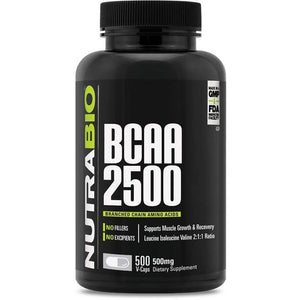 BCAA'sSUPPORTS LEAN MUSCLE GROWTH Branch chain amino acids (BCAAs) are essential to muscle protein synthesis. NutraBios BCAA 2500 combines leucine, isoleucine, and valine in the scientifically supported 2:1:1 ratio to ensure the best results.
NATURALLY FERMENTED BCAA 2500 uses natural fermented plant based BCAAs.
WITHOUT COMPROMISE All NutraBio products are made without compromising quality, and BCAA 2500 is no exception. This product is vegetarian, gluten-free, non-GMO, certified Kosher, keto friendly and made in the USA.
RECOVERY SUPPORT BCAAs are anti-catabolic and taken intra workout or post workout can help improve and support recovery.
FULL LABEL DISCLOSURE All NutraBio products feature fully transparent labels with no proprietary blends. Every ingredient is fully disclosed, down to the flavoring and sweeteners.
Size:500 Capsules BCAA 2500 is NutraBio's anabolic matrix that combines the powerful muscle regenerating benefits of branched chain amino acids (BCAAs). Collectively made up of leucine, isoleucine, and valine, BCAAs are known as essential amino acids because the human body cannot produce them and they must be consumed through diet or supplementation. Independently, each BCAA plays an important physiological role in the body. However, it is their synergistic combination that produces one of the most important processes involved in muscle building and recovery—muscle protein synthesis (MPS). Hundreds of studies exist on the ergogenic benefits of BCAAs. The majority of them show that BCAAs, whether consumed throughout the day or pre, during, or post- workout, decrease protein catabolism (breakdown) and support muscle protein synthesis, a physiological process responsible for muscle growth and repair. Furthermore, BCAAs are vitally important to glucose (energy) production, contributing to more than 40% of glucose production during sustained endurance exercises.