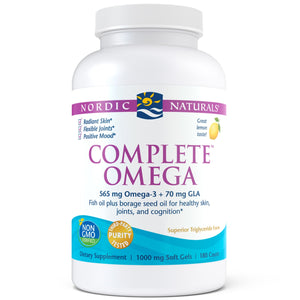 FULL BODY BENEFITS: Complete Omega provides full-spectrum essential fatty acid support that blends omega-3s EPA and DHA from fish oil to support a healthy heart, normal brain function, and a positive mood, with omega-6 GLA from borage oil that aids with healthy joints and skin, and omega-9.
GREAT SUPPORT + GREAT TASTE: Complete Omega is the omega "multi" for comprehensive support. Available in delicious, natural lemon flavored soft gels or liquid.
WILD CAUGHT + SUSTAINABLY SOURCED: Every batch of Nordic Naturals fish oil is crafted from wild-caught, omega-rich fish from the freshest catch, sourced from the cleanest waters, and only in a way that fully protects the ocean's fragile ecosystem.
BEST ABSORPTION FOR BEST RESULTS: Nordic Naturals formulas are produced in true triglyceride form to ensure optimal absorption and results.
THE ALPHA OF OMEGAS: At Nordic Naturals we believe that omega oils are essential to life. By correcting the global omega-3 deficiency, we give each generation what they need to grow healthy and strong. Through science and innovation, we are committed to delivering safe, effective omega oils.