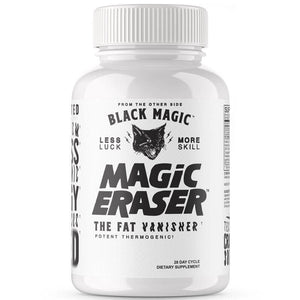 THE FAT VANISHER
Potent Thermogenic
Bring the intensity and make fat vanish with our complete multi-stage thermogenic The Magic Eraser. Our hard hitting fat loss formula is designed to assist in burning body fat while simultaneously providing clean energy, focus, and endurance to your most rigorous cardio sessions.
The Magic Eraser is a fully loaded fat loss weapon built with ingredients to increase your overall energy and suppress your appetite to keep you on track whether you are in a caloric deficit or just trying to cut some weight to improve your overall look.
Experience the best results with our Less Luck, More Skill Approach. The Magic Eraser is loaded with a special blend of hand crafted ingredients that over deliver when it comes to putting your body into fat burning mode. Bring your best physique to date with The Magic Eraser available now from Black Magic Supply.
Increased Energy
Fat Vanishing Formula
Enhanced Endurance
Tunnel Vision Focus
Directions: As a dietary supplement, take THREE (3) capsules before breakfast. Due to extreme potency one may wish to start with 1-2 capsules for the initial 3-4 days before progressing to a full serving. Alternatively, one may split the dosage up to spread the energy more evenly throughout the day. Do not exceed the recommended dosage in a 24-hr period.