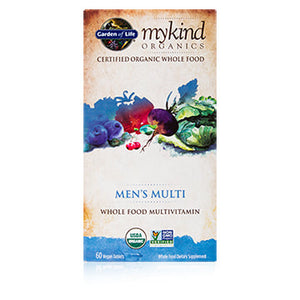 Finally, there is a whole food multi from real, honest, nutritious foods that's Certified USDA Organic, is Non-GMO Project Verified and is specifically formulated for the needs of men—mykind Organics Men's Multi.
Made from over 30 organic fruits, vegetables and herbs,mykind Organics Men's Multi is designed to promote sustained energy while supporting a healthy metabolism and heart.†Men's Multi offers 20 vitamins and minerals with 16 greater than 100% Daily Value, including targeted levels of folate for prostate health and targeted levels of chromium for a healthy metabolism. For extra energy, Men's Multi delivers 500% of the Daily Value (DV) of vitamin B-12 in methylcobalamin form—a highly absorbable, active, natural form of B-12, like the B-12 in the body.
Men's™ Multi is made from real whole food, including organic fruits, veggies and herbs such as lemons, apples, basil, red cabbage, celery, tomatoes and many other real organic foods to give men the nutritional punch they need in a natural form"and all of them are Certified Vegan, USDA Certified Organic and Non-GMO Project Verified.