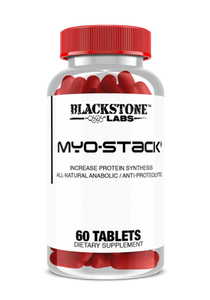 Myo-Stack is perfect for those who want to:
Build muscle and/or enhance athletic performance.
Complement his or her current athletic supplement stack.
Promote muscle growth while avoiding androgen supplements (e.g. women).
Myo-Stack enhances lean mass gains, limits protein breakdown, and accelerates recovery. Utilizing "Ajuga Turkestanica", Myo-Stack is a support product that can be used on it's own, but achieves even greater results when paired with other Blackstone Labs products.