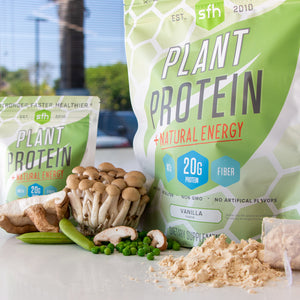 Powered by pea protein, mushrooms, fiber, and MCTs. May help promote: energy and strength, athletic recovery, and muscular development.
This creamy delicious vanilla flavor leaves you with a smooth mouth feel, no gritty texture here!
Fuel your adventures naturally with energy from plants! We designed a blend of pea protein, mushrooms, and MCTs to provide you with fiber, healthy fats, and 20g of protein for natural sustained energy. Unlike most plant-based protein, ​Plant Energy is a grit-free formula that has a delicious vanilla taste.
As always, we pride ourselves on what we leave out, not just what we put in. The SFH Promise is to provide you with products free of gluten, soy, artificial flavors, and genetically modified ingredients.