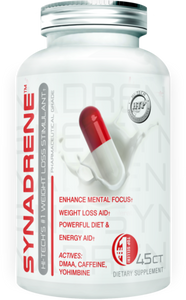 Powerful diet and weight-loss aid
Enhances mental focus and energy
Researchers at Hi-Tech Pharmaceuticals familiar with the effectiveness of one of the most popular supplements ever (Synedrex) that was pulled from shelves "reverse engineered" it. They created Synadrene™, which combines the power of DMHA with other high-caliber intensifiers. It will undoubtedly be one of the greatest weight-loss products of all time. Why settle for "New & Marginal" when you could have New & Improved"? Here it is.
Fans of Synedrex no longer have to burn through ineffective products—and their wallets—on an endless hunt to find their favorite fat burner, courtesy of Hi-Tech Pharmaceuticals. Synadrene combines the best of the two versions of Synedrex and improves them by going back to DMHA and adding green tea extract back in.
Dosing:
Take 1 capsule 3 times daily. Never exceed 4 capsules in any 24 hour period.
Typically, the first capsule is taken on an empty stomach 15-30 minutes before breakfast so you can let the appetite suppressants kick in and keep your eating under control.