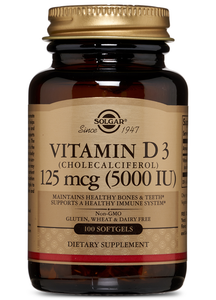 WHY VITAMIN D? – With age, the way the body absorbs Vitamin D can become inefficient over time. Vitamin D is required in order to promote the absorption of calcium which is key in maintaining healthy teeth and bones. Vitamin D also helps support a healthy immune system and neuromuscular function.
BODY BENEFITS – These Vitamin D3 vegetable capsules are formulated to be convenient and easy to swallow. In addition, Vitamin D3 supports and maintains healthy bones, teeth and immune system.
EASY TO ABSORB – The formulation of Solgar Vitamin D3 5,000 IU vegetable capsules offers advanced Vitamin D3 support in convenient, easy to swallow capsules.
GLUTEN-FREE – These softgels are free of gluten, wheat, dairy, soy, yeast, sugar, sodium and artificial flavors, sweeteners, preservatives and colors.